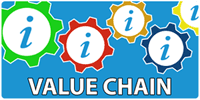 Yes, you CAN measure – and communicate – the value of information products and services for achieving business goals.
Years of work with Jinfo clients have enabled us to develop a flexible, effective three-step process for articulating, measuring and enhancing value.
You can work through the three steps – foundation, validation, application – with a recorded webinar explaining the concepts, accompanied by a hands-on activity (PDF) where you can practice applying them.
Scroll down to start

"I'm Stephen Phillips, Lead Analyst for Jinfo.
You can advance your information strategy with the practical activities and research insights in Jinfo's Focus areas when you become a client.
Contact me to discuss your unique needs, and we can map our methods and experience to address your opportunities and challenges".
Start here
Work on your own – Content
Use the activities outlined and described below to analyse, develop and report on your contributions to value in your organisation
Step 1: Foundation
Foundation of Value Chain Analysis
(12 mins)
Draft Analysis of Value
(4 pages)
Step 2: Validation
Validating your hypothesis
(10 mins)
Creating your Validation Plan
(12 pages)
Step 3: Application
Piloting Value Chain Analysis
How do other information teams do it? Community dialogue
There's no "right" way to analyse your Value Chain. Jinfo Community sessions offer the opportunity to discuss the process, challenges and results with peers:
---
Testimonial
"We engaged with Jinfo Consulting to conduct Value Chain analysis to understand how our customers generate revenue and where our services in the research group add the most value. After working through the analysis, it was clear where we could best help the business grow value – and demonstrate to them our value. As a result, we were able to fine-tune our strategy, services and outreach. We are now building core services specific to the parts of the Value Chain where we have the greatest impact."
Information Manager, insurance industry
Additional background on the core principles
"Documenting the value chain" was constructed as an initial analysis of the primary goals of most organisations.
Review these articles: